The program • VinoVip 2022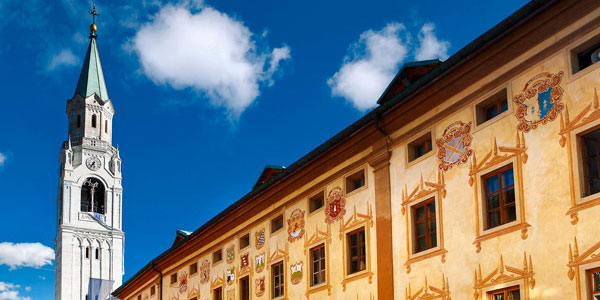 Programma VinoVip Cortina
Two days at the center of the wine world, in a friendly and enthusiastic atmosphere, overlooking the most beautiful mountains in the world: the Dolomites. This is VinoVip Cortina. Here is the program for Sunday, July 10th and Monday, July 11th 2022.
Sunday

10th July
3:00 pm
Alexander Girardi Hall
Welcome guests
Talk show
3:30 pm
Alexander Girardi Hall
The traditional talk show this year will focus on the theme of "new skills," or the wealth of knowledge indispensable to those who work professionally in the world of wine, both in production and in communication and services. Speakers will include prestigious entrepreneurs and supporters of the event, each selected for a very specific area of expertise: Vinitaly (promotion), Foragri (continuing education in agriculture), Della Toffola (enology) and Vivai Cooperativi Rauscedo (nursery).
During the talk show, the Khail 2022 Prize will be presented, an award named after the founder of Civiltà del bere and given to a person who has distinguished himself or herself in the promotion of Italian wine in the world.
(English translation available in headphones)
Free entry with reservation [+]
La Notte delle Stelle
Welcome light dinner
7:30-9:00 pm
Hotel Bellevue Suites & SPA ****
The exclusive welcome dinner on the terrace at the Hotel Bellevue, right in the center of Cortina d'Ampezzo, with a selection of wines from the stars of VinoVip 2022 to go with the glass.
By invitation only
VinoVip al Cinema
…continuavano a chiamarlo Trinità ("They Call Me Trinity")
9:30 pm
Alexander Girardi Hall
Presented by the heirs of producer Italo Zingarelli, the special screening celebrates the 50th anniversary of the film featuring the Bud Spencer-Terence Hill duo in action for the second time. It is among the most-watched Italian films ever in theaters.
Free entry with reservation [+]
Monday

11th July
11:00 am -13:30 pm
Rifugio Faloria
Brunch for guests and producers
By invitation only
Grand Tasting
3:30-7:00 pm (admission allowed until 6.00 pm)
Golf Club
The highlight event of VinoVip, for the first time staged at the Cortina d'Ampezzo Golf Club: a walk-around tasting with breathtaking views of the Ampezzo Dolomites. The 59 featured companies will offer the audience of guests and enthusiasts three wines each: more than 170 iconic labels, great classics and novelties.
Single admission € 30 only on presale [+]
free to subscribers of Civiltà del bere (do you want to subscribe? click here)