Cortina d'Ampezzo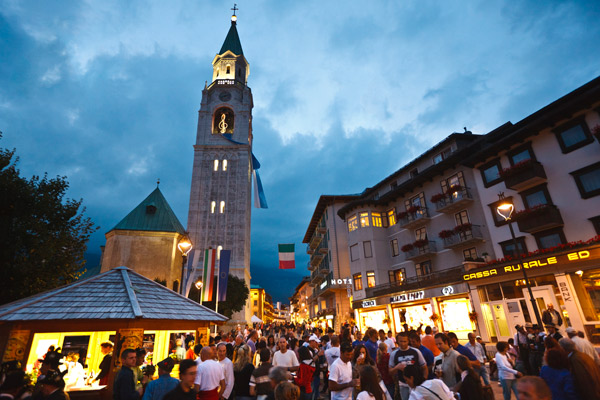 VinoVip is set in one of the most prestigious mountain resorts: Cortina d'Ampezzo. The municipality has always given patronage to the Civilization of Drinking summit. The green basin in which it lies, in the Cadore Valley, is surrounded by magnificent Dolomite scenery: the Tofane, Cinque Torri, Cristallo and other majestic peaks, beloved by the tourists who enliven the town every year. In 1874 a woman, the first in the Dolomites, climbed the Cristallo. In 1902 the first ski race was organized, and in 1956 Cortina hosted the Winter Olympics, an exceptional event that will be repeated in 2026. Since 2009, the World Heritage Comittee has officially listed the Dolomites as a UNESCO World Heritage Site.
How to get to Cortina d'Ampezzo
The city (google maps) is well connected to major cities in northern Italy, railway stations and surrounding airports.
By car Cortina is crossed by the SS51 di Alemagna in a north-south direction and the SS48 bis delle Dolomiti in an east-west direction. The motorway exits are the A27 Belluno (to the south, 72 km) and the A22 Bresssanone (to the north, 87 km).
By bus The Cortina Express, ATVO and FlixBus bus lines connect Cortina d'Ampezzo with Venice airport and the Venezia Mestre railway station. Read more
By train The nearest stations are Calalzo di Cadore and Dobbiaco, which are connected to Cortina by a bus line. Several bus lines stop at the Venezia Mestre station (see 'By bus' section).
By plane the nearest airport is Venice Marco Polo airport, where several bus lines stop (see 'By bus' section).
By helicopter To the official stopover in Cortina, the Fiames heliport, with the services of the Air Service Centre and Eli Friulia.